MIKE JOSEPH 200K WORLD RECORD BENCH PRESS.
Mike is sponsored by LA Muscle and sells only LA Muscle products.
If you would like to get hold of LA Muscle products.
Give Mike a ring 0797 166 5027 or an email. Email Mike here.

http://mikejosephofficial.wordpress.com/

We are waiting to upload Mike's video of his 200 kilo unasisted
bench press. If you have it please send it to us.

Thank you.

Stan

Mike's Motto.




"Drug Free the way to be"



At just over 80kgs, Mike Joseph is the world's strongest bench presser. Benching 200k he holds the world records in the unassisted drug free bench press competition.

Mike has proved himself over the last 20 years at Stans Gym
to be a real gentleman and great ambassador for the sport.
Well done Mike from everyone at Stans Gym you are an inspiration.


 
 
Mike's first Powerlifting Competitions were in Stan's Gym. Mike won two years running.
Well done Mike from all of us at Stan's drug free Gym.

Watch Mike in the video
above bench 198 1/2 kilo

Mike Joseph. Managing Director. Right Choice Insurance Brokers Limited.
T: 0845 555 0666. F: 01708 721407. M: 07747 037870
mikejoseph@rcib.co.uk
Bank Chambers, 180a Main Road, Gidea Park, Romford, Essex.
RM2 5HX.FSA number 475620. Phone Mike for a cheaper quote.
Mike may save you money.
Titles

British Bench Press Champion
European Bench Press Champion
World Bench Press Champion
British Powerlifting Champion
European Powerlifting Champion
World Powerlifting Champion

Records

British, European and World Bench Press Records
British, European and World Powerlifting Records
Guinness book of records 24 hour bench press .

 
I watched and saw that every person
who trained with Mike for any time made
the most incredible gains in
strength and size.

I watched for many years Mike having
the most intense workouts.

DB shrugs were one
of his favorites.


Close grip bench press was another.

Stan
| | | | | | |
| --- | --- | --- | --- | --- | --- |
| | | | | | |
The Mike Joseph Story.


I originally got into weight training because I was like many youngsters fascinated by Arnold Schwarzenegger and all that he had achieved.
I was approached at Stan's Gym by a guy who was a competitive powerlifter and he said that he had been watching me and that I was strong enough to have a chance of doing well if I entered a powerlifting competition, so I joined the "British Drug Free Powerlifting Association" an affiliate of the "World Drug Free Powerlifting Federation". The reason I joined this organization was because although most of my Idols were using drugs I felt that I only ever wanted to be natural and to show people what can be achieved drug free and the BDFPA are avid drug free and always drug test 10% of lifters at every meet as well as out of competition tested (which I have been subjected to) and to date I have been tested on about 10 occasions. My 1st competition was March 1999, a regional event in the north west of England, I entered the bench press category at 75KG (165 pounds) bodyweight and broke the British record, this win qualified me for the British championships which I also won and then onto the European & world bench press championships, I also during that year broke the European Record with a bench press of 172.5 KG (380 pounds) over twice my bodyweight.
The following year I retained my titles & moved up to a heavier weight class (82.5KG / 181 pounds) and also started competing in powerlifting (all three power disciplines Squat, Benchpress & Deadlift combined total). In September 2000 I participated in my 1st power comp which I won and again qualified for the British championships (unfortunately I came 2nd, my first taste of defeat), 2nd was still good enough to qualify me for the internationals and I put my disappointment behind me by winning the European championships & setting a new world record total 602.5KG (1325 pounds), I have since retained all of my titles and also broken my own total record by totaling 610 KG (1342 pounds) as well as setting a new bench press world record of 193.5 kg (426 pounds).
Not content with my powerlifting exploits I also was part of a nine man team in February this year that broke the "Guinness Book Of Records" 24 hour bench press record, we beat the existing record of 10 million pounds, achieving 11 million pounds with 4 hours to spare and are now officially in the famous book of records. My ambition is to continue competing and hopefully powerlifting will become an Olympic sport, as I dream of an Olympic Gold Medal. I hope that what I have achieved drug free will be a great example to others to stop them from taking steroids etc. My motto is "Drug Free the way to be".
Email Mike here.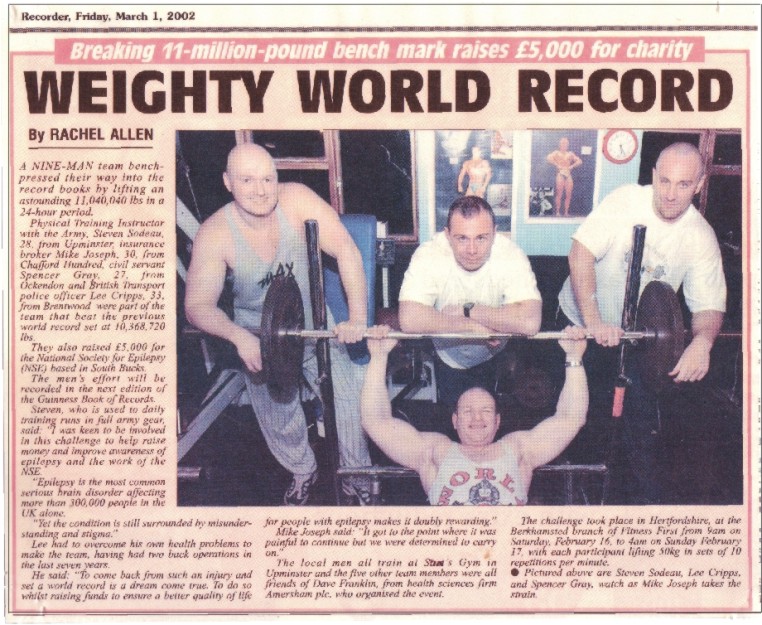 8 Week Bench Press Routine.
If you have found that you have stopped making gains in your bench press strength, then help is at hand.If you follow this 8 week routine I GUARANTEE you will make great gains.
The common problem with most lifters is that they either stick to the old "3 sets of 10 routine" or do many reps with too much weight in the early sets and therefore end up exhausted before attempting to lift the heavier weights.Whilst it is important to warm up properly it is also vital that you dont over do the early sets leaving yourself too tired / weak to complete the harder sets. Follow the tabke below, if in doubt email me bigmikejobo@supanet.com, I can also do a personal plan for you at a reasonable cost:
Set 1

Set 2

Set 3

Set 4

Set 5

Set 6

Set 7

Set 8

Set 9*

Number of reps

10

6

4

2

1

6

6

6

6+6+6

Week 1

60

90

120

140

150

155

155

155

140/110/80

Week 2

60

90

120

140

150

160

160

160

140/110/80

Week 3

60

90

120

140

150

165

165

165

140/110/80

Week 4

60

90

120

140

150

170

170

170

140/110/80

Week 5

60

90

120

140

150

172.5

172.5

172.5

140/110/80

Week 6

60

90

120

140

150

175

175

175

140/110/80

Week 7

60

90

120

140

150

177.5

177.5

177.5

140/110/80

Week 8

60

90

120

140

150

180

180

180

140/110/80

* set 9 is 6 reps, each with a 2 second chest pause, then strip the weight, 6 paused reps again, strip, then last 6 paused reps. Email Mike here.
The idea is that whatever weight you can currently do for 6 reps you use that for you week 6 figures (sets 6,7&8) then count back by 2.5kg to complete the figures for week 5 etc, my table is done for a lifter who can currently bench 175kg for 6, this routine would then hopefully take the bench up to 180kg for 6 reps by week 8.
| | | | |
| --- | --- | --- | --- |
| Exercise | # of Sets | # of Reps | Poundages |
| Flat Bench | 9 | 1 to 10 | 40 to 400 |
| Incline Bench | 4 | 4 to 10 | 140 to 300 |
| Squats | 8 | 1 to 10 | 40 to 400 |
| Leg Curls | 4 | 10 | 100 |
| Tricep Push Downs | 3 | 10 to 20 | 30 to 50 |
| Close Grip Press | 4 | 6 to 10 | 150 to 270 |
| Overhead Tricep Press | 3 | 10 to 20 | bodyweight |
| Seated Rear Shoulder Press | 5 | 5 to 10 | 20 to 220 |
| Front Lateral Raises | 2 | 10 | 35 to 44 |
| Shrugs | 4 | 10 | full stack on machine |
| Seated Front Shoulder Press | 3 | 6 to 10 | 110 to 220 |
| Chins | 5 | 10 | bodyweight |

After nearly 2 years out with Injury Mike Joseph
has just regained his World Bench Press Title.
Mike had been world champion for 7 successive years prior to injury but after starting from the beginning in a local divisional qualifier, winning the British in July and then qualifying for the World championships in Montesilvano Italy. Having dominated his category for so many years then having a long lay off Mike wasn't sure what to expect, new names were now on the list and also still suffering from some of the effects of his shoulder injury, Mike weighed in over 2kg lighter than the upper weight limit in his 82.5kg class.
The 82.5kg is always a large and well contested category, this year however it was even larger than he had expected and he was in a class of 25, bearing in mind this was 25 of the best lifters in the world, Mike had a difficult task ahead of him if he was to regain his much coveted title. 1pm came and it was time to warm up, with the shoulder not quite 100% Mike decided to do a reduced warm up and hopefully save himself for the big event, the warm ups went well despite some discomfort and the competition began. The order of lifting was set by using a rising bar method, therefore with Mike attempting the heaviest opening lift he was last to lift in his class, the heaviest lifted so far was by Irelands Mark McConnell, a massive 160kg.

Not fazed by this Mike successfully benched his opening lift of 175kg. 2nd attempts soon came around and Mark benched 170kg, leaving Mike still in front but with Mark having 1 lift left anything could still happen. Mike elected to attempt 182.5kg which he completed with some ease and for his final attempt Mark requested 185kg, should he successfully achieve this Mike would need to improve on his last lift, with the shoulder getting worse he was beginning to doubt himself.

Mark Gallantly attempted a new personal best but unfortunately didn't quite have enough in the tank to complete the lift, leaving Mike victorious but still having a last attempt to complete, once again this was one lift too many and Mike failed to raise the bar more than a few inches from his chest, fortunately the competition was already won. Mike now plans to have the rest of the year off before beginning training for next years competitions.
Mike currently holds the World Record in his weight class with a bench press of 198kg achieved in the World Championships in 2005 and he hopes to join an elite band of people who have bench pressed 200kg (31.5 stones), a remarkable feat at any bodyweight let alone 82.5kg (13 stones). Mike, an Insurance broker by day and star of his own DVD, LA Muscle produced "The Bench Press King", is 36 years old and a father of Charlie 6. His other achievements include World Powerlifting champion and world record holder and also he is in the "Guinness Book of Records" for setting a record for 24 hour bench pressing. Mike can also help with training and advice and can be contacted on bigmikejobo@supanet.com Stan of Stan's Gym is happy to report that Mike Joseph has since completed his 200kg bench press, and holds the unassisted world record in flat bench press. Well Done.
Mike Joseph the 200k Bench Press World Record holder can get you LA supplements.


Mike loves the sport and knows a great deal about supplements. Mike has often give advise to Stan of Stan's Gym concerning what supplements to take for best results. On Mike's recommendation Stan has often used LA muscle supplements and has also recommended them to others. Mike is able to get LA Muscle supplements for you.

You can phone Mike or come and speak to him in Stan's Gym. After Mikes training Mike is happy to answer your questions and is able to take orders if you decide that you want to use LA Muscle.

Mike is also available to give you general workout advise. Email Mike here.
Search Results for "mike joseph" Mike Joseph wins World Bench Press Champs. He has done it once again! Mike Joseph has won at the World Bench Press Championships. This man is truly one of the best powerlifters this country has ever seen. Well done Mike. www.lamuscle.com/world/news/joseph-wins2. Mike Joseph featured in several newspapers. LA Muscle's Champion Mike Joseph has recently been given a huge amount of exposure in various newspapers. His preparation for the World Championships as well as a feature right. www.lamuscle.com/world/press/Mike_Joseph_press. Gazette on Mike Joseph's preparations. The Gazette in Thurrock has run an article on Mike Joseph getting ready for the British Drug Free Powerlifting Association meet in Oxford. His weight category of 82.5kgs is heavily. www.lamuscle.com/world/press/gazette-jospeh. Mike Joseph wins British Powerlifting. Our very own Mike Joseph came back after 1 year's injury following a bike accident and entered the eastern counties divisional at chelsea barracks & broke the british bench press record, www.lamuscle.com/world/news/joseph-wins. Marina & Mike Joseph updates. Mike Joseph competed at the World Natural Powerlifting Championships and lifted in the unequipped bench press and won his class comfortably breaking the european record (he benched 190.5Kg, www.lamuscle.com/world/news/joseph-update. Mike Joseph wins World Bench press Record again!.Mike Joseph retains his World Bench Press title at the World Championships. www.lamuscle.com/world/news/joseph-record. Bench Press King. Look no further! Mike Joseph is the British, European and World Bench Press Champion. He is the World Bench Press Record Holder, British and European Powerlifting Champion as well as a record holder. www.lamuscle.com/products/benchpressking. Mike Joseph, World Bench Press Champion. How to improve your bench press. www.lamuscle.com/videos/video/mikejosephvideo. Gazette, Thurrock on Mike Joseph's win. The Gazette ran an article on Mike Joseph entering the record books (again!) with his single Bench Press lift of 198kgs - that's 436 pounds! Mike who weighs just under 13 stones, www.lamuscle.com/world/press/thurrock-jospeh. Mike Joseph wins the World Powerlifting Championships in Belgium. Mike Joseph has recently returned from the World Championship in Antwerp, Belgium where he once again retained his title. He qualified to take his place by winning the British Championships. www.lamuscle.com/world/news/Mike_Joesph_Antwerp